The Eyes That Pierce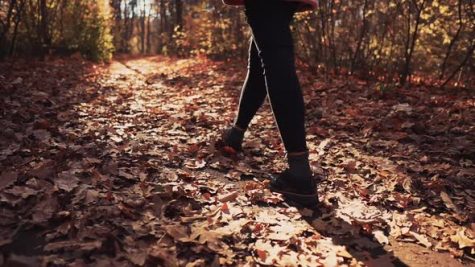 After a long day of work, I decide that going for a late evening stroll may be nice. I just want to feel the cold end-of-fall air and the beautiful colors of the foliage. I walk about three blocks when I feel it… eyes. I feel the stare of someone piercing right through me, but when I look back over my shoulder, I see nothing. All I see is the road I'm taking to get to the woods that I always walk in. Of course nothing's there. "Stop overreacting," I whisper under my breath. I continue walking along, taking in my surroundings: the trees, whose leaves have fallen as a result of autumn, and the soft, white frost on the foliage laying on the ground.
           As I'm walking I think back to the small town I live in. I love it and hold the town very dear to my heart. I think about the old gas stations and my neighbors who have lived here for many decades. Compared to them I'm very young, but that doesn't stop me from making friends. My thoughts are rudely interrupted by the feeling of a stare, looking at me once again. My heart now starts to race, and my face starts to sweat. I look back once again and see something. It's dark outside, so it's quite hard to tell what I'm looking at. I slowly, cautiously, step toward the dark, skinny figure. I take one more step and realize it's just a small tree. Slightly relieved and trying to shake my fear away, I start to walk back home, still startled by the eyes I had felt on me previously. I'm just out of it today. I need to just get some sleep, I think to myself.
         I'm only able to walk a few steps before I feel it again, the someone, or something, that I feel watching me with every step I take. I jerk my head around fast, trying my best to be brave when I see it. A real figure, a man, slowly stepping toward me. I don't know what to do, so I just go numb, bracing myself for the worse. I try to somehow think rationally; maybe this was oddly just a person taking a walk here. This thought didn't seem accurate as I hadn't seen anyone in these woods before. I slowly try to calm down and take a few deep breaths. The few breaths I take work for a moment and my fast heart beat starts to resettle, but seeing the terrifying silhouette of a knife in his hand makes everything unnerving again. My body now feels like electricity is running up and down it, and I'm terrified for my life. It's real, I think to myself. I'm not tired, or crazy; the eyes on me are real, and they're staring at me.  I can't even move; all I can do now is stare at his intimidating figure come closer, and closer, and closer…